Starting the first week of June, many areas in the country shifted to general community quarantine (GCQ). The province of Batangas, meanwhile, has already transitioned to this phase last 16th of May. The said lifting of some quarantine restrictions was performed and approved mainly to revive the economy, hence unnecessary travels are still prohibited to the public.
We are encouraged every day to strictly practice social distancing. As the virus continues to spread, we still cannot get too much excited to go outside and abruptly initiate gatherings including a large number of people. I know. I understand the feeling. All of us are being challenged in this age of coronavirus.
For everyone's safety, sadly, we have to sacrifice the physical closeness we have with friends and family members who are away from home. We must bear with this, but we are still uncertain about when this sacrifice will last.
For months, the main change that has taken in our lives is our new normal – work, home, and social life. Admit it or not, the earlier quarantine restrictions made us create new patterns in spending our time and productivity. Now that many sectors are allowed to reopen and many are authorized to go outside more often, during specific hours, the practice of social distancing will be the next challenge for us to fully normalize.
What can I do while practicing social distancing outside?
First, remember the things for hygienic purposes that you should always bring with you whenever you are authorized to go out:
Face mask (and a spare one in case of emergency)
Alcohol or hand sanitizer
Hand soap
Additional Note: Make sure to save the hotline number of the nearest health center in case you experience, or anyone you know, any COVID-19 symptoms.
Second, be mindful of your space. Do your best not to space out or avoid using your cellphone while walking in the street.
Third, avoid touching surfaces and then touching your face (especially MEN – mouth, eyes, and nose).
Fourth, stay friendly and compassionate. Social distancing does not mean setting aside our socialization. May you be either an introvert or extrovert walking outside, you still got some social skills that define your human nature.
You can still greet or wave at the persons you pass by as this will help put them in a good mood. Remember, everyone is in a tough situation now. Let us respect, not discriminate.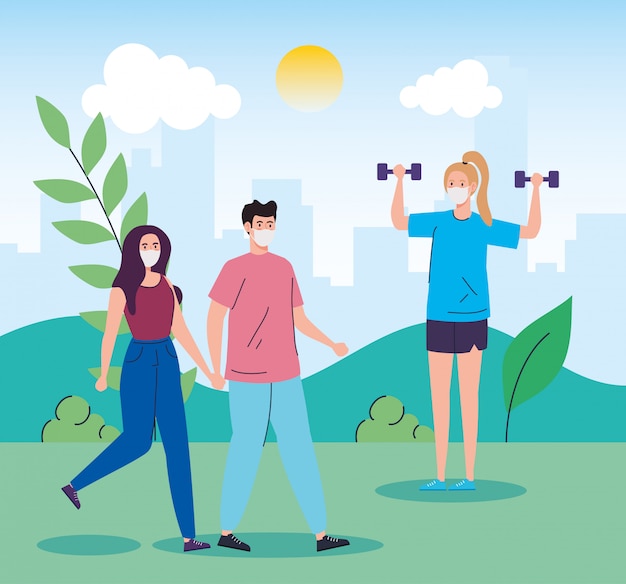 If you wish to take a walk as an exercise…
"Under GCQ, outdoor exercise is allowed as well as limited contact sports like tennis and golf."

Source: MCQ vs GCQ: What's The Difference?
You have spent so much time in your home, and taking a walk outside can give health benefits like improving your mood and supporting your functional health. Yes, you can get minimum exercise outside but do not linger around. Your body still needs some physical activity and vitamin D outside. Acknowledge it and then go back afterward.
Another tip: Go out at less popular times when streets are empty.
Do not forget…
Do not forget to always wash your hands upon arriving home. Always remember to practice health and safety protocols for us to prevent the spread of coronavirus. To help save lives, we must learn to adapt our lifestyles according to the situation.
Do not forget your compassion. Always remember that we are caretakers of ourselves, our family and friends, our fellowmen, and our Mother Earth.
Lastly, do not forget to pray. Let us never ever lose our faith. Despite these 2020 crises, we are being watched over and guided. We are not alone in this fight! The age of coronavirus shall come to pass.